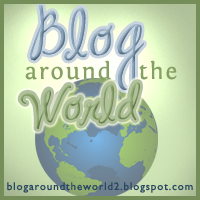 My name is Angie and I was thrilled when I was contacted by Debbie from "Blog Around The World" on Friday, asking me if I would like to share my little neck of the woods with her readers today. I am fairly new to BATW, but have absolutely enjoyed meeting many new people and discovering new locales through Debbie's fantastic website.
So, as I welcome my regular friends and family to my blog today…I'd also like to say a huge "Hello!" to any BATW bloggers that decided to stop by as well. Thank you for taking the time discover my little part of the world.
I'd like to welcome you to my teeny-tiny town in Ohio that is located about an hour south of Cleveland. I hope you all won't mind the gloomy, gray photos that I am using to introduce you to my town. At this time of year, gloomy and gray are just about the only photos that I get to take around here!
When I use the term "teeny-tiny" to describe my town, I'm really referring to the fact that it is small in terms of our population size because it is actually quite a large town in terms of land size.
Our town is very, very, very isolated…

And very, very rural…

And, I think it'd be fair to say that in terms of the rest of Ohio, we pretty much live in the "Middle Of Nowhere."

I was raised in an Ohio town (that is located about 30 minutes south of Cleveland, Ohio) for most of my life. After my husband and I got married, we were transferred to Evansville, IN and then Louisville, KY for his job. Both were beautiful places to live and we made so many wonderful friendships during the seven years we lived in those locations. When we found out we were going to be transferred back to Ohio, my husband had one, and only one, priority when it came to our house hunt…he wanted land. And he wanted lots of it. He has always been a country boy and after living in the city for seven years, he was ready to live somewhere where our children would be able to roam freely around the yard and where he would have enough space to be "able to breathe."
And that is why we live in our current location. In our township there is a "10 Acre Minimum" rule that is actually written into our township guidelines. While most of the land is still used for farming, the parcels of land that are put up for sale are never less than 10 acres, and are usually much larger than 10 acres. This makes everyone's property very spread out and has made it possible for our community to keep it's rural feel. This isolated feeling was a bit difficult for me when we first moved here, but now that we have been living here for over eight years, I can truly say that I absolutely love living in our small town out in the middle of nowhere. It's been a wonderful way of life for our family.
So, let's move on to the "Smalltown, Ohio Tour." The first stop on our tour will be my "downtown."
On one corner of our downtown, you will find what would probably have to be the world's smallest post office:

And on the opposite corner of our downtown, you would find our Antique Store…which I just realized today when I was driving around taking photos that it is actually empty and for sale now:

And that's it for our "downtown." I am being completely serious when I tell you that those two buildings are our downtown. The first part of our tour is finished already!
Now, if you drive up the road just a bit to the north, you will come to our fancy community center. It is located in the old elementary school that was previously used for grades K/1 for our local school system before they consolidated into one larger school building for grades Pre-K through 8th.
I love this little building…it's where we attend the "Ruritan Club Swiss Steak Dinners" when they are trying to raise money for important things like a new refrigerator; it's where we go to vote during every election; it's where the local Comedy Club puts on their amateur shows to raise money for different charities; and it's where my children played T-ball during the summer when they were into that sport. It's the social hub of our tiny community.

And if you turn around and drive south in the opposite direction for just a bit, you will come to the cute little Methodist church.

And from there…if you look way, way, waaaaaaay off in the distance, you will see our water tower!

Exciting stuff, huh?! There are just soooo many incredible points of interest to visit in my town. 🙂
The main thing that makes our community unique from many others, is that our township is completely immersed and intertwined with a local, extremely conservative Amish community.

When most people in Ohio think of the Amish community, they immediately think of the more commercialized Amish community that is located about an hour away from where I live. Those Amish are much more polished and industrialized than the Amish in my community are. Their homes are beautifully manicured, their shops are full of unique, handmade creations and their craftsmen are experts at creating gorgeous oak furniture. People will drive from hours away to be able to spend time in that "Amish Country."

Our Amish community is not like that at all.
We have an Amish family that lives just around the corner from us that we have become friends with. Through eight years of talking to them, we have learned a lot about our Amish community. And through that we have learned that they pretty much look down on the more commercialized sect of Amish people. Our Amish friends consider themselves to be "lower" than the other Amish sects…and in their minds that is a good thing. They have taken the more simple path in life, they don't accept a lot of the modern conveniences that the "upper" Amish have accepted and so they feel that they are a better set of Amish because they are more conservative in their beliefs and way of life. This was extremely interesting to me when we first started living here because I had always naively believed that all Amish were the same and that they all believed the same things.
Instead, I quickly learned that they have just as many variances in their belief system as any other group of people in the United States would have!
Here are some various photos of different Amish homes that are located in my community…

Interesting fact: Amish people openly refer to non-Amish people (like me) as "The English"

Interesting fact: There is no rhyme or reason as to where the different types of homes are located in our community. On any single road you will usually find a variety of different homes….an older English farmhouse, a middle class home, an Amish spread of homes and outbuildings, an English horse farm, and many million dollar homes as well.

Interesting fact: Many of the Amish who live around us are part of the Old Amish Order called Swartzentruber Amish.

Interesting fact: When we first moved into our current home, it took months before my oldest son (who was 2 years-old at the time) stopped running to the front window every single time he heard an Amish buggy driving down our road. He was completely fascinated by those "amazing" contraptions!

Interesting fact: The Amish do not like their photo to be taken by anyone. I usually respect this quirk that they have, but occasionally I find that my fingers can't resist the urge to snap a few shots. I only do this if I am absolutely certain that they cannot see me (I am usually hiding way back in my kitchen utilizing the zoom lens on my camera.) My children always "yell" at me every single time I give into this urge though…"Mommy! The Amish do NOT like having their pictures taken….you know that!"


Interesting fact: When we first moved here, we received multiple warnings to "not become too friendly with those Amish people…they will try to take advantage of you." For the most part, we have found that the Amish community and our community are very isolated from each other. We have been privileged to become friends with the one Amish family though and we have never felt like they have tried to take advantage of us. Who knows…maybe they warned the other "taking advantage of you Amish people" to stay away from us.
There is one HUGE pet peeve I have about the Amish though. It never fails that whenever it is my turn to drive the kids to school…I always get stuck behind an Amish buggy on every single stinkin' hill there is (and there are a LOT of hills around here.) Believe me, a huge line of cars lined up behind an Amish buggy does not cause the Amish driver to have even one tiny little bit of anxiety at all…they will just continue to casually plod along at a slow clop/clop/clop speed that drives me insane. I know that there is really nothing they can do about this problem, but getting stuck behind one of them when I am in a rush to get the kids to school…it gets my blood completely boiling every single time!

Oh the stress of the "Amish Country" commute! 🙂
I have a second blog where I try to post one new photo a day…if you'd like to view other photos from my community, I have posted additional images there.
Thanks again for taking the time to visit with me today. My hope is that you enjoyed learning a little bit about my community and the unique Amish community that is intertwined with mine. Even though I live "way out in the country" I am thrilled to let you know that we do have high-speed internet and city water. And no matter which direction I drive, I can be at a Wal-Mart or Target within a half hour. These might seem like everyday occurences to most people, but in my book…they are great blessings indeed!
**If you have any questions about my community…please feel free to ask them in the Comments section. I'll do my best to try to answer them for you.**